Background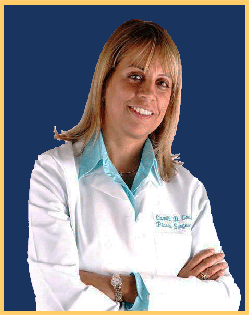 Dr. Chavez has been a plastic surgeon for over 20 years. This has given her a vast breadth of experience and knowledge in plastic surgery.  She specializes in breast implants, breast lifts, breast reductions, tummy tucks and liposuction.  
Her higher education began by attending Cornell University an Ivy League school, well known for its academic excellence. There she received her Bachelor of Arts degree. She attended medical school at the Columbia College of Physician & Surgeons in New York, one of the top schools in the country.
She finished 5 years of General Surgery training at the University of Illinois at Chicago and did an additional 3 years of a Plastic surgery fellowship at Loyola University in Chicago.  Her training in plastic surgery was broad and  included microsurgery, craniofacial, trauma, hand and cosmetic surgery.
As an attending surgeon at the Cook County Burn Center in Chicago, she managed the day to day care of patients on the floor as well as the intensive care unit.  It is one of the largest and well known burn centers in the country.
While she was an Instructor in Surgery at the University of Illinois Hospital she took care of patients and was responsible for the teaching and training of future doctors.
Her passion for Plastic Surgery has never wavered.  "As a physician: I care about my patients, as a female surgeon: I understand my patients and as a plastic surgeon: I take pride in my results. My goal is make patients happy with their consultation, procedure and final outcome."
Education
Undergraduate Degree: Cornell University B.A., New York, NY
Medical Degree: Columbia College of Physicians and Surgeons, New York
Residency and Fellowship:
General Surgery, University of Illinois Hospital, Chicago, Illinois
Plastic Surgery Fellowship, Loyola University in Chicago
Assistant Professor University of Illinois, Department of General Surgery
​Burn Unit and Intensive Care Unit Attending, Cook County Hospital
Dade County Medical Association Member
Florida Medical Association Member